Activities
Various suggestions for your vacation:
Whether from our farm or around the Sciliar area there are- in summer as well an in winter- for active and relaxation seekers to discover and discover a lot. A special highlight is the beautiful Alpe di Siusi, which you should not miss! Enjoy various hikes and excursions destinations there. You can explore the holiday region Alpe di Siusi by public transport and with the free guest card – which you will receive from us. The bus stop is just 50 meters from our house and one of the buses will take you directly to the Alpe di Siusi cable car, which will take you to the Alpe di Siusi in no time. This is the largest and highest alpine pasture in Europe.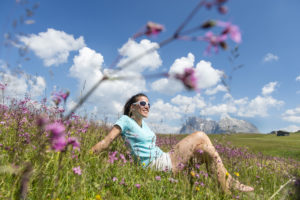 Swimming
For swimming and sunbathing, you can either visit the nearby outdoor swimming pool Telfen ( at payment) or the natural lake Völser Weiher at the foot of the Sciliar (20 min. from our house). If you also feel like taking a hike from here, you can hike up- in a half hour on feet- to the Tuff Alm and enjoy the view. This was awarded in 2007 as the most beautiful pasture in South Tyrol.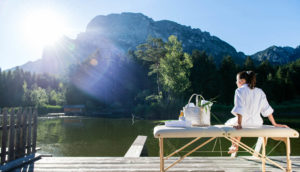 Golf
Golf enthusiasts should not miss the 18- hole golf course in San Vigilio a Siusi and let off steam in the midst of fresh mountain air and lush green meadows. The golf course is open from April to November thanks to 300 sunny days.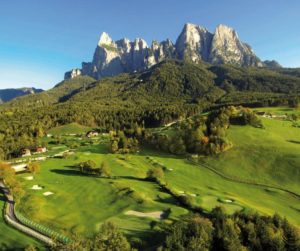 Horse riding
Take a ride with the horses and have the opportunity to explore our unique landscape from a different angle. Whether beginner or advanced- competent riding instructors will teach you how to handle the horses and they are happy to help.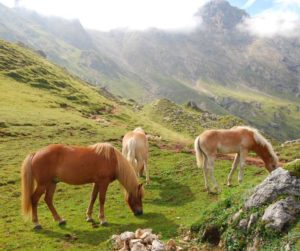 Tours with the mountainbike
From our farm or even on the Alpe di Siusi various mountains bike tours can be undertaken and different challenging routes can be covered.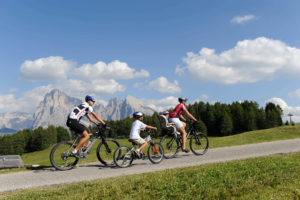 Paragliding
Maybe you feel like flying through the air like an eagle – the you have the opportunity from Spitzbühl on the Alpe di Siusi to bird´s – eye view. The tandem pilot will help you with this and will also provide you with the right equipment. Paragliding is possible both in summer and in winter.
Activities in the winter
Even in winter, the Alpe di Siusi offers a variety of sports: From skiing, to cross country skiing sledding, ski touring , snowboarding, snowshoeing or different walks- there is something for everyone !